Brass Bearing Hinges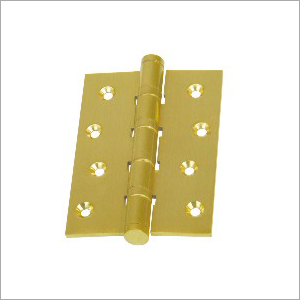 Brass Bearing Hinges
Product Description
Brass Bearing Hinges
Based on our distinctive work ethics, we have carved a niche in manufacturing and supplying Brass Bearing Hinges. These hinges are used in the fitting of various doors and windows and enables easy movement. This product is provided with epoxy finish in order to be used even in water accessible places. Our hinges are quality approved under the supervision of knowledgeable personnel based on several industry set parameters. We provide this range of Brass Bearing Hinges at the customer stipulated time frame.
Features:
Dimensional accuracy

High tensile strength

Smooth movement
Material : Brass
Products Origin : Gujarat, India
BEARING HINGES
Code.
Size
IN MM
BH1
3" x 2.5 x 2.5mm
75 x 63 x 2.5mm
BH2
4" x 3 x 3mm
100 x 75 x 3mm
BH3
5" x 3 x 3mm
125 x 75 x 3mm
BH4
6" x 3 x 3mm
150 x 75 x 3mm
BH5
4" x 3 x 4mm
100 x 75 x 4mm
BH6
5" x 3 x 4mm
125 x 75 x 4mm
BH7
6" x 3 x 4mm
150 x 75 x 4mm
BH8
8" x 4 x 5mm
200 x 100 x 5mm
We will Also Provide Products as per Customer Requirement and Specification.